2019 is nearing its end, which means we'll now be starting to see a change in bridal fashion trends. Designers are starting to release their new collections and from what we can see on the runway, it looks like the 2019 wedding dress trends are going to be bold, sparkly and gorgeous!
We've narrowed down our favourite wedding dress trends that we'll be seeing a lot of in the new year.
2019 Wedding Dress Trends
Puffy sleeves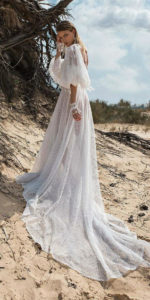 (Image source: Pinterest)
Draped, puffy sleeves with lace and chiffon are totally on trend for 2019 weddings. Big sleeves can be seen on dresses that have a low back, creating a relaxed boho look. These puffy sleeves are so unique and really add something extra to a dress.
Shimmer & glitter!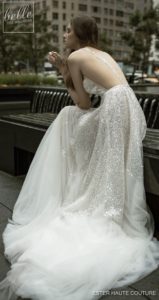 (Image source: Pinterest)
Lots of shimmer, shine and glitter is coming to bridal fashion in 2019. Glimmering dresses will look absolutely beautiful on brides as they walk down the aisle. Shimmery materials especially look great on long, flowy bridal gowns.
Flowers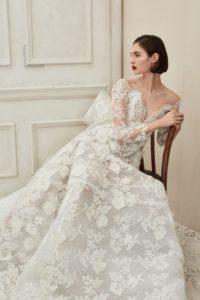 (Image source: Pinterest)
Flowers are making a comeback in 2019. Big flower patterns are featured on dress designs in all kinds of different styles. This trend is a little more classic than some of the other 2019 wedding dress trends, but it's just as gorgeous!
Meghan inspired…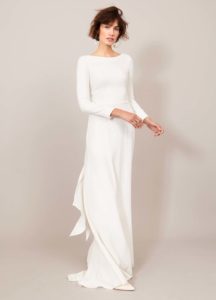 (Image source: Pinterest)
The royal wedding has surely left its mark on the wedding dress industry. Meghan inspired dresses are still going to be a huge trend in 2019 and likely for years to come! Meghan's wedding dress featured a bateau neckline and long sleeves. This clean and simple dress style looks super flattering on just about anybody.
Capes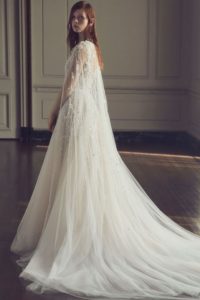 (Image source: Pinterest)
Sheer capes draped over the shoulders can be seen in a lot of the 2019 wedding dress collections. Mostly made out of chiffon or lace, the wedding dress cape adds an extra touch of elegance to a wedding dress.
Getting married next year and love some of these 2019 wedding dress trends? At Bryony Jayne Couture, we can design a dress especially for you and incorporate all the wedding dress trends that you love. Contact Bryony Jayne Couture today to find out more.