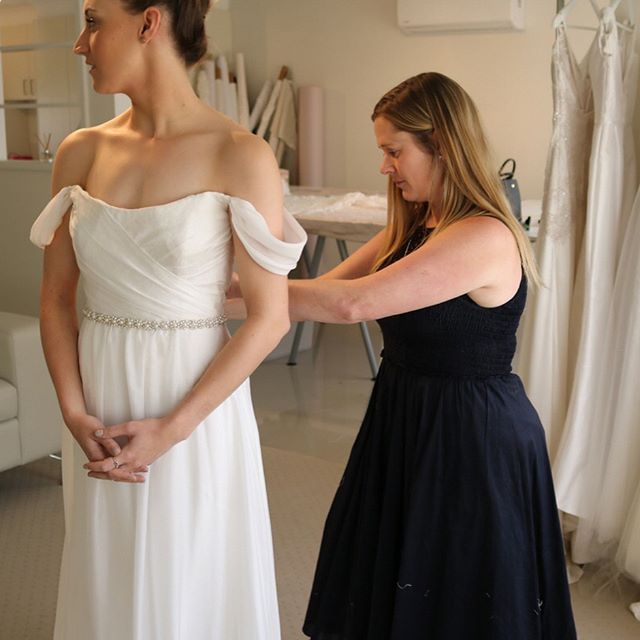 Our Experience
Bryony Jayne Reardon, owner of Bryony Jayne Bridal Couture, has worked in the Melbourne bridal industry independently as a dressmaker for over ten years, and previously at both Helen Brownhill (Malvern), and Raffaele Ciuca (Armadale), before establishing her own independent bridal brand, "Bryony Jayne Bridal Couture" in early 2013.
Prior to working independently, Bryony received a Bachelor of Fashion from Box Hill Institute and has emerged as finalist twice in a row, in the creative exhibition show, "Gown of the Year" organised and run by the late, and iconic, Guy Barton (held annually at the Crown Ballroom).
In late 2019, New Idea Magazine honoured us by naming our Winter gown as one of the top five, plus size dresses in Melbourne. They said that it was "one of the best beach wedding dresses we've seen."

What We Offer
At Bryony Jayne Bridal Couture, we offer an extensive range of both pre-designed bridal couture gowns as well as a unique personalised design and creation service catering for your individual taste.
We take the time the time to discuss what fabrics, style, looks and inspiration you want to achieve for your special day and how your perfect dress will fit and suit your entire wedding day.
All consultations are free, and there is no obligation during your first appointment. Whether it is photos or drawings you can bring with you to draw inspiration from, a classical design or something a little more contemporary, be it silk or chiffons or even perhaps a truly unique and hand crafted dress you've always dreamed of, we will work with you to ensure that the creation of your bridal gown is a truly memorable experience.