Getting married on the beach this Summer? The beach makes for a stunning backdrop at a wedding, but what kind of wedding dress will be comfortable to wear on the sand and under the sun while still making you look stunning on your big day?
When looking at beach wedding dresses as inspiration for your gown, the first thing to consider is fabrics. Look for wedding dress inspo that uses lightweight fabrics such as chiffon, lace, or silk. You want to avoid falling in-love with wedding dresses that have lots of layers to them. Although they might look gorgeous blowing in the wind on the beach, they're not going to be practical… especially when sand is involved!
The best types of beach wedding dresses are ones that are flowy, not too heavy, and let air through the material.
Here's a compilation of beach wedding dress inspo images that will help you narrow down the type of dress you want for your coastal ceremony.
Beach Wedding Dress Inspo: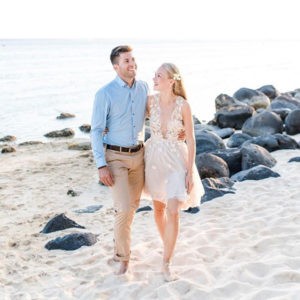 @dararakovic_photographer
This short wedding dress is perfect for a beach wedding. It would be comfortable to wear all day, as it is not dragging in the sand, and it's made from layered lace and chiffon. This dress is super breezy and relaxed and looks great against the beach backdrop.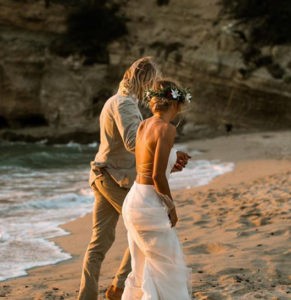 @jade_a_brown
This beach wedding dress inspo is very minimal, with gorgeous lace up detailing on the back. This dress is also very lightweight, made up of silk material. This gown is a very elegant example of a comfortable beach wedding dress.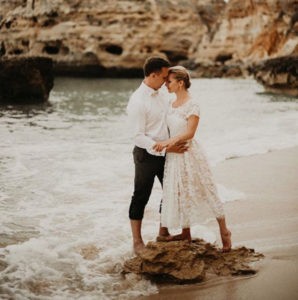 @vilnissluka
How amazing is the lace detailing on this dress? The length of this dress is just perfect for a wedding on the beach. The lining of this dress is shorter than the lace, making it more airy and lightweight. So elegant!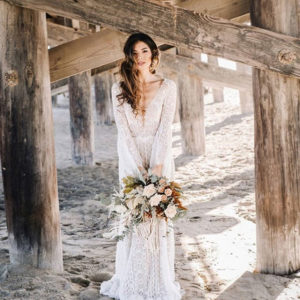 @fleur.ish
For a more boho look, this dress is the perfect inspo. This gown is thin with lots of intricate lace detailing. The long sleeves and full-length give it that boho feel while still being thin enough to be comfortable to wear on the beach on a hot day. This effortless look is what brides tend to look for when shopping for their perfect beach wedding dress.