Getting married in spring and need some dress inspiration? There are so many amazing spring wedding dress trends this year and we've narrowed it down to our top three!
Top 3 Spring Wedding Dress Trends for 2019:
Sweetheart Neckline
The sweetheart neckline is back as a spring wedding dress trend! A classic style that looks great on so many different body shapes. A sweetheart neckline looks great with any material. You could have a plain silk dress, a lace dress or even have jewels beaded onto the dress. Any material you like looks great with this style.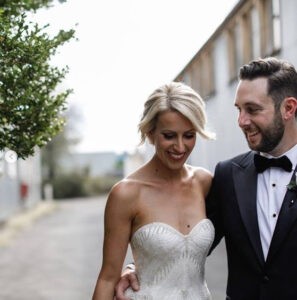 (Photo: @lexiedenby)
This dress has a very modern sweetheart neckline – it's not an over pronounced heart shape but still gives the effect. Stunning!
V-neckline
This spring wedding dress trend looks beautiful, especially on straight and flowy gowns. V-necklines are very flattering and very comfortable which is so important on your wedding day – you don't want to be fussing over how your dress is sitting all day long!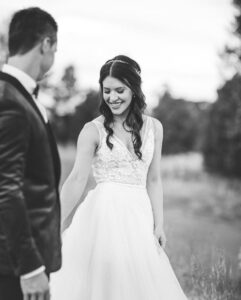 (Photo: @peppermintstudiosbaby)
This dress features a lace bodice that looks very elegant with the v-neckline. Perfect for an outdoor garden wedding!
A v-neckline wedding dress would also look great made with a satin material.
Tulle
Tulle is a huge trend for spring wedding dresses this year. In particular, using tulle in the skirt of the dress for a flowy, relaxed effect.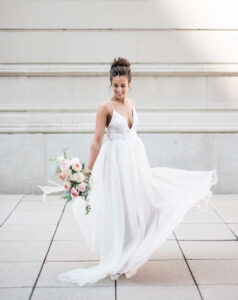 (Photo: @averyhouse)
Doesn't this dress just look stunning? It pairs beautifully with the pink and white flowers in her bouquet. The tulle is so elegant and youthful – we love it!
The best part about these spring wedding dress trends is that you can take elements of them and fit them to a dress style you love! We're seeing a lot of sweetheart necklines on dresses with sleeves or without sleeves, v-neckline wedding dresses with low backs or high backs, and tulle gowns with lots of layers or thin layers.