Love vintage inspired wedding dresses? Vintage style wedding gowns look so elegant and unique and can change the whole style of a wedding! Throughout the 1900s there were countless wedding dress styles that are still absolutely gorgeous today. But buying a quality vintage wedding dress can be quite pricey and it's not easy to find one that is just quite right. Instead, we recommend finding vintage wedding dress inspiration photos and getting a dress custom made. Custom designing a vintage inspired wedding dress means that you can choose elements from different decades and styles and put them together to create your dream dress.
Here's some vintage inspired wedding dresses we love:
Lace and short sleeves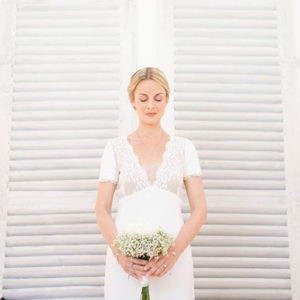 @tg_story
A very pretty vintage inspired wedding dress that has a relaxed feel. The sleeves on this dress are so cute! The long, straight style of this dress is very minimalist while the lace and sleeves bring in the vintage vibes.
Vintage meets modern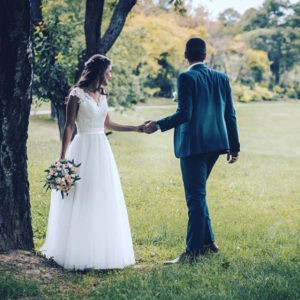 @eskuvioruhaplaza
A beautiful vintage wedding dress design. This style of dress is a great option if you want to include vintage elements in your wedding while having a modern feel. The lace shoulder sleeves are very flattering and make for a very elegant look.
Lace sleeves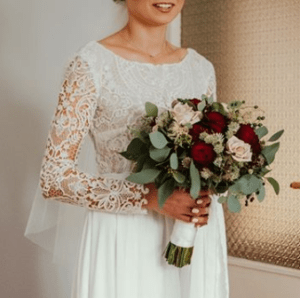 @fregolicotard
This relaxed vintage inspired wedding dress would look amazing at a boho style wedding. The long lace sleeves and bateau neckline was popular in the 50s and 60s. Just stunning!
Great Gatsby inspired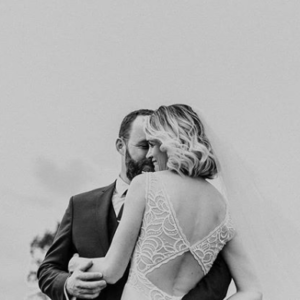 @remaininlightphoto
The lace detailing on this dress makes for a classic Great Gatsby inspired gown. The cut of this dress and the back detailing is typical of a dress from the 1920s and is both fun and classy. Another gorgeous vintage inspired wedding dress design!